Yes, It Does Take a Village
It happens whenever small groups of justice-conscious people find themselves in casual spaces discussing serious social problems. As the conversation nears closure, someone will invariably say, "It takes a village". We have all heard it and possibly said ourselves that it takes a village to raise a child. If there was ever a statement that almost guarantees easy assent, it's this one. Here's another truth that's not so easily digested: It takes a village to hold oppressive powers in place. As we come to the end of this post-election year, the truth of this statement has never been more obvious. To recite the litany of social and political atrocities in this village that we call America would be almost mind-numbing. Suffice it to say that our systems of economic justice, legal protection, and prudent governance are being eviscerated in front of our very eyes. What we like to call "government of, for, and by the people" is nearing full conversion into a ruthless marketplace run by kleptocrats. Likewise, the occupant of the Oval Office continues to plunge our village ever deeper into his personal abyss of intellectual and moral vacuity.
Now in these closing weeks of 2017, reports of rampant sexual violence by powerful men have captivated the headlines, and for a while, the attention span of our American village. Story after horrific story reveals how the perpetrators methodically exploited the deep-structured and intersecting fault lines in our culture: misogyny, racism, classism, heterosexism, xenophobia – just to name a few. They also reveal what happens when malignant power goes unfettered. The victims and survivors of these devastating crimes take a direct hit. However, like other perversions of power, the insidious complexity of sexual violence is such that no one goes unscathed. Yes, it does takes a village to solve complex problems. If we are ready to get real about these crimes and other perversions of power, we must get beyond the platitudes. Since we are all in the village, it is time to consider exactly what it is we need to be doing. There is no quick fix for malevolent power, but for starters, we can ask these two questions:
How will the village decipher the complexity of unjust power arrangements?
How we will apportion responsibility for moving toward more just uses of power?
So let's start by getting real with this uncomfortable truth: it takes a village to sustain a lie. It takes a village to perpetuate the illusion of normalcy around glaringly aberrant behavior. The 45th POTUS, along with the posse of women and men who prop him up, lies on a daily basis. Whether or not he believes his lies is somewhat immaterial (except to those who are in a position to render an accurate and comprehensive diagnosis). What is more pertinent is that those of us in this village are expected to enact his ever-mutating stories of reality. Some of us do. Some of us accept the lie that a tax policy that enriches the already rich and rips cancer treatment away from the rest of us is the "relief" that our village needs. Some of us nod approvingly when chief law enforcement officer Sessions equates Black Lives Matter activist with ISIS/ISIL jihadists. Some of the same villagers who call Colin Kaepernick unpatriotic are unwilling or unable to see the inherent treason in consorting with the Russian government to subvert the very process that we call the cornerstone of our democracy. We know sexual predators live in our village, and we cannot pretend that they ply their trade in a hermetically sealed vacuum. Notwithstanding the performances of "shock and dismay" by their close associates, it takes a village to form layers of protection around these perpetrators, be they politicians, media illuminati, Supreme Court justices, or small-town school principals.
It may be tempting at times to divide the villagers between those who resist oppressive power and those who collude with it. However, the truth of the matter is that our village is not so conveniently divided into the just and the unjust, the 1% and the 99%, the pure and the impure. At one time or another, any one of us might get seduced by the illusory spoils of unjust power arrangements. I suspect that's because we don't think about power arrangements until we are confronted with an inequality. In fact, so long as the world is working for us, so long as the standard operating procedures of the culture work in our favor, we may not notice the power we have at all. It's often not until we find ourselves on the butt end of an unequal or unfair apportionment of power that we notice that something is amiss. For example, so long as I have reasonably good physical mobility, I may not notice bathroom doors which bar access to people using wheel chairs. I can choose to remain comfortably oblivious to the power that my mobility affords me. So long as I remain unconscious about how power works, I can easily participate in the malfunction – and think it is my right to do so.  Here's my point: unconscious uses of power easily transmute into abusive uses of power.
Make no mistake: there are people in our village who consciously aid and abet all manners of injustice. They divide the world into "winners" and "losers" and they always intend to be on the winning side. Their credo is simple: the so-called losers deserve to lose; the so-called winners deserve everything they can take. Isn't that what the eldest son of the POTUS suggested in his ill-considered Halloween candy tweet? Of course, there are those of us who would not taunt children about Halloween candy, nor slaughter elephants for sport. However, even we are susceptible to cooperating with the machinations of oppressive power.
Power matters, so how do we abdicate our power and responsibility as part of the village?
There are three interrelated dynamics in play. First, the ethos of individualism constricts our awareness of interbeing: it prevents us from apprehending our inextricable connectedness as members of not just this American village, but also of this planet. It is no surprise then that we might blithely dismiss asocial, anti-social, or just odd behavior as "not our business." Sadly, it is only when tragedy ensues that we notice, but even then, the perpetrator is called out as a "lone wolf" and we express disbelief that "it could happen here." We consider "minding our own business" a cultural virtue, and surely, sometimes it is. The thing is we have noticed when "minding our own business" actually functions to erect a protective barrier between ourselves and communal responsibility. I'm not at all suggesting that we are responsible for or even able to anticipate every human tragedy. I am inviting us to consider the consequences of not noticing everyday encounters – whether it's the glassy-eyed habitué at casino slot machines or the neighbor whose prodigious use of makeup cannot conceal her bruises. I am inviting us to ask ourselves how proximal a problem must be for us to consider it our business.
The second dynamic is one I call entrained oblivion. In any abusive village culture (e.g. nuclear family, legislative halls, corporate entertainment) people become adept at not seeing what they see, not feeling what they feel, and not knowing what they know. Victims who speak up risk facing savage recrimination, even those, as the recent headlines make clear, who have power and resources to capture our attention. Although, their stories ring true, what seems less true is the notion that none of the smart and talented people knew what was happening in their professional village. The perpetrators were also smart and talented men, but it strains the hell out of credulity to accept the story that they were able to fool all of their colleagues all of the time. I suspect that like the victims, all of the shocked, heartbroken, and unknowing associates knew that there was a price to be paid for speaking truth. Better to be oblivious than to be broke. And speaking of being broke, I would be remiss not to mention the abuse suffered by the thousands of women and men who do not wield headline-grabbing power. These are the fast food and factory workers, hotel maids, undocumented laborers who are vulnerable to assault, sexual and otherwise. What they risk in speaking up is not career advancement or a higher paycheck, but their own and their families' survival. They, like their more prominent or famous counterparts, are doubly victimized when we the villagers choose our attachment to personal security over our shared responsibility for protecting each other's dignity and caring about their well-being. My point is this: entrained oblivion is the process by which we secure access to the spoils of injustice, and in so doing, we sacrifice our moral core. I once had a client who said it best: "We can get mighty attached to our second-class seat."
I call the third dynamic the charter of entitlement. The way this entitlement works can seem innocuous, even kind-hearted, but the implications are far reaching and grim. It is the notion that powerful people (read: rich, famous, high organizational status) can unilaterally set the terms of relationship with people of lesser status. Of course, there is a continuum of such behaviors from the socially benign to egregiously damaging, but they are all rooted fundamentally in the charter of entitlement. It could be a cardiac surgeon who presumes that her toddler's presence in the office is welcomed by her staff assistant. It could be the tenured professor questioning the cafeteria worker about her finances, or it could be beloved Princess Diana going around the world hugging people whether they wanted to be touched or not. When the interaction can't be initiated by the other party or reversed (e.g. the cafeteria worker probing the professor about his finances), we are likely dealing with the charter of entitlement. To put it even more bluntly, those of us on the high-status side of the power inequality can and do use those with lesser status as "receptacles" for whatever energies or anxieties we need to discharge. For example, how many secretaries (usually female) have had to listen to bosses (typically male) complain about his partner's (usually a wife) sexual or temperamental or whatever inadequacies? Why is it that the people who do the "unimportant," but vital functions in our society (e.g. nannies, domestic workers) were conscripted as the confidantes of employers? Perhaps the most malignant expression of this charter is the presumed right to control the bodies, minds, and spirits of people whom we presume to be less human than we are. The aspect of entitlement has deep roots in our village culture. It is how we managed to justify the contradictions within our free and democratic society: including but not limited to chattel slavery, Japanese internment, mass incarceration of nonwhite bodies, economic desiccation of working and middle wage families. . . the litany can go on and on. We are therefore not surprised that one of POTUS' boys quipped that the people who oppose his father are not even human. The aberrations of oppressive power are so commonplace as to seem normal. We must de-normalize them.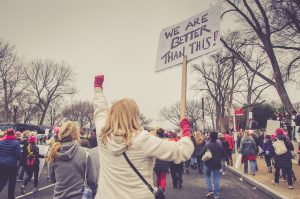 We need to talk.  Is that where we begin?
Every so often someone comes up with the idea of a national conversation. It's a good idea, but only if there is clarity about the structure and the goals. I mean really:  How many times has someone said to you "We need to talk," when what they really mean is "I've got something to say to you."  So what should we do when we hear this proposal – whether on national television or across the dining room table? Our job is to know when the proposed conversation is authentic or just a ruse. A "national conversation" can function to sustain pathological uses of power. In oppressive power systems, the entire point of communication is mystification and misdirection. The entire point is about winning – by any means necessary. Winning is predicated on discrepant goals and often unequal access to information. One party walks in bright-eyed and hopeful that new possibilities will emerge through authentic exchange and clarification of information. The other walks in determined to shut down any such mutual exchange using formulaic sleights of tongue. For example, there are the false equivalences. A case in point: we have now learned that the comedian Al Franken just wallowed in patriarchal entitlement. While he opined self-righteously about notorious liars in the Washington establishment, he was an emotional philanderer in his marriage of forty-plus years and a handsy violator of women's bodies. Interestingly, this information was unearthed as evidence mounted against the serial pedophile running for the US Senate. Al Franken did and may still act like an absolute jerk. But let's be clear: he is not a child molester. Although the deviant behavior exhibited by the two men share etiological roots, Al Franken is not Roy Moore.
My point is not to defend Al Franken (though I do hope he is chastened by the exposure and can continue to do good work in some capacity). My point is that we should at least wonder – out loud – when the unspoken "therefore" of a conversation is actually an attempt to silence and humiliate. We can at least wonder how it came to be that damaging information about a left-leaning, progressive senator suddenly came to light in the wake of what should be the Roy Moore scandal. These are uneasy distinctions I know. We want to and need to condemn the behavior of both men. But we must remember that drawing false equivalences is a linguistic ruse that has a singular purpose: shaming us into silence.
Another formulaic communication strategy in oppressive power systems is misdirection. I call it "let's you and those other people fight." Now that Mitch McConnell, Paul Ryan and the other congressional minions have done the bidding of their Oval Office over-lord, they are all smiles these days. I confess: I don't trust any of them when their lips are moving. But I was stunned when Paul Ryan invoked Stephan Curry's name to explain how it was good for "ordinary Americans" to support a tax plan that would strip them of access to drug treatment during an opioid crisis. Interestingly, Paul Ryan and the GOP chose to name Stephen Curry (a black NBA player who had been previously insulted by the 45th POTUS) in the FAQ section of the Republican tax bill. They mentioned him, and only him, as the example of how their bill would allegedly help a "regular" (dog whistle: white) guy, Steve-the-bike-store-owner, more than Stephen Curry. It is important to ask why Mr. Ryan invoked Mr. Curry, instead of say Tom Brady, Eli Manning or Curt Schilling. The communication ploy was simple: stoke the racialized fears and rage of white people. He was whistling a favorite, distinctly American tune and it wasn't just the proverbial dogs who heard it. Verse and chorus, it goes like this: America (meaning white people), you have been suffering because young, famous, rich, and probably ungrateful African American men are taking the rewards that should go to you. Lyndon Baines Johnson, himself an erstwhile segregationist, called it: "If you can convince the lowest white man that he is better than the best colored man, he won't notice you are picking his pocket. Hell, give him somebody to look down on, and he will empty his pockets for you."  Mystification and misdirection are weaponized communication tactics (We see POTUS' use these tactics daily and the media's entrained  oblivion to them); the only point is to suppress truth seeking and to silence truth-speaking. Our job is to reset the terms of the conversation (if we can), to expose the tactics for what they are (we can), and to keep on seeking and speaking the truths that make us whole.
So long as we're focusing on communication, there is the issue of our own language. "Evil" is a much over-used word, and I'm not sure it has any utility in the lexicon of change. Have you noticed that it is probably the one word that is used with equal alacrity by all of us across the political spectrum? I'm not saying that evil doesn't exist; I am saying that it is the language of displacement, abdication, and self-absolution. Why amend the gun laws when we can just declare that Stephen Paddock was evil? Evil isn't necessary for the enactment of oppressive ideologies or the performance of horrific behavior. The men who had years of steady access to vulnerable young boys and female Olympic gymnasts did not need "evil"; they needed a steady stream of colluders and procurers. Evil is the word I use when I'm feeling heartbroken and helpless – or when I am just tired of thinking about something. And I confess: it's also the word I use to disconnect my humanness from someone whom I abhor. It doesn't help me to do that, nor will it help the rest of us in the village. We are here to grapple with, confront, protect, care about, and love each other as best we can. We are to notice when we are inhabiting power in ways that reduce the dignity and safety of each other. We are here to resist oppressive forces that diminish life and livelihood not just in our village but also on the planet. And to use the words of poet laureate Elizabeth Alexander: "Aren't we of interest to each other?